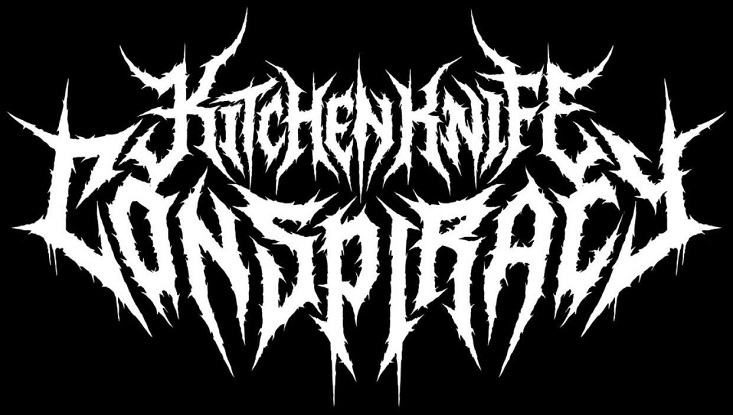 Kitchen Knife Conspiracy are one of those bands that have grown near and dear to me over the years.. they're originally from Youngstown, Ohio.. my neighboring state and i can be there in an hour if i'm in a hurry so i've been lucky enough to see them play a lot over the years.. seeing them was always fun but sadly and just recently John, vocals, has left the band and instead of breaking up.. the band decided to continue on.. so they searched for and finally decided on a new singer Ian Pethtel from "Secondhand Suicide" and while his style is different from Johns it seems to me Ian will fit in nicely and they're working on an as yet untitled new album and i'm very psyched for it.
Kitchen Knife Conspiracy are a mid-tempo, groove oriented death metal band and while not breaking any barriers in the genre they come off passionate about their art and very entertaining especially live. give them a listen..
"Death metal? Kinda. Hardcore? Kinda. Porn rock? Definitely." -Kitchen Knife Conspiracy
by the way.. the full track title, track 01, off of "A Friend In Need.. Is A Friend To Kill" is "Rancid Whore Tied To A Bedpost With Barbed Wire And Covered In battery Acid" to many characters for good old windows.
Quality: LAME 3.98, 320 CBR
Encyclopaedia Metallum
Myspace
Kitchen Knife Conspiracy "Sin-Pathetic" 2000
Download:
Megaupload
Kitchen Knife Conspiracy "Handicapitated" 2001
Download:
Megaupload
Kitchen Knife Conspiracy "Worst Case In Stereo" 2003
Download:
Megaupload
Kitchen Knife Conspiracy "A Friend In Need.. Is A Friend To Kill" 2006
Download:
Megaupload